TRAINING SALE!
Take Advantage of These Special Online Trading Course Offers
on Some of Our Most Popular Training Opportunities
Steven Primo's
Secrets of a Stock Exchange Specialist
3-Hour Online Video Seminar
(Normally $997
Now Only $37
Steven Primo's
Best of Trading Lessons 4-Pack
4 Hour Long Online Videos
(Normally $997)
Now Only $49
Steven Primo's
Trading Floor Edges Course
Online Training Course
(Normally $997)
Now Only $39
Mary Ellen McGonagle's
6 Key Ingredients Of A Big Winning Stock
Identify Big Winning Stocks Online Course
(Normally $297)
Now Only $39
Mary Ellen McGonagle's
How To Find And Trade Momentum Stocks
Online Momentum Trading Course
(Normally $497)
Now Only $39
Eric Wilkinson
Wolfman's Options Basics Course
Online Course
(Normally $997)
Now Only $36
Eric Wilkinson
Wolfman's "How To Trade Like The Wolfman"

Online Video Course
(Normally $997)
Now Only $36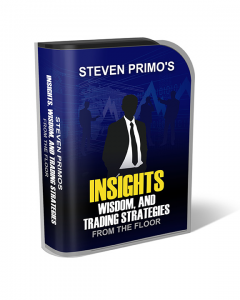 Steven Primo's
Insights, Wisdom & Trading Strategies From The Floor – the eBook
Steve's Original eBook
(Normally $99)
Now Only $38
* * * Subscription Trials * * *
ProTrader Strategies
Premium Member

Weekly Workshops
Over 100 Trading Videos
Daily Setups
30-day Trial
Only $7
Daily Options Commentary
Over 50-Options Workshop Videos
Priority Workshop Access
30-day Trial
Only $7
Mary Ellen McGonagle
MEM Edge Member

Get Her Top Buy & Sell Candidates
Weekly Market Analysis
Intra Week Alerts
30-day Trial
Only $7
Why wait . . . Start your training today!
Contact us with any questions:
310-598-6677 or Email us at:[email protected]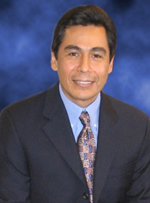 ABOUT STEVEN PRIMO
Steven Primo has been actively involved in trading the markets for over 39 years. His trading tenure began in 1977 when he was hired to work as a Floor Reporter, or runner, on the floor of the Pacific Stock Exchange. Primo reached the pinnacle of his floor-trading career when he became a Stock Exchange Specialist for Donaldson, Lufkin, and Jenrette. As a Specialist he was responsible for making markets in over 50 stocks, a position Primo held for 9 years. Primo left the Stock Exchange floor in 1994 to focus on managing money and to teach his own unique approach to trading the markets. Scores of students, from beginner to advanced levels, have gone on to become successful traders after being introduced to Primos proprietary methods of trading.
Steven has also been featured in Stocks and Commodities magazine and is a frequent contributor to many sites such as Tradingmarkets, FXstreet, Forex Pros and Traders Expo. His strategies are now traded across the globe in nearly 100 countries on 6 continents.
ABOUT ERIC WILKINSON
Eric Wilkinson is a veteran floor trader and has been trading financial futures, commodities, stocks, stock indices and options on a variety of products for over 20 years. He has been sought out by several media outlets to debate against some of the brightest minds in the industry, where he debates on topics ranging from economics, geopolitics and market directions.
He is most notable for his comments in Rick Santelli's "Rant Heard Around the World" where he was the first to use the phrase "moral hazard" in connection with the Feds actions surrounding the financial crises of 2008. Mr. Wilkinson is a professional Trader and he is also an educator with ProTraderStrategies.com. He began his trading career while earning his Finance degree at Ball State University. After graduating, he moved to Chicago to work on the floor of the Chicago Board of Trade where he honed his skills as a trader.If you are a new trader or have several years of experience and would like to be mentored by Mr. Wilkinson, you can join him for his online classes and webinars by going to ProTraderStrategies.com. He can also be found on twitter @wolfmansblog for his snarky comments.
MARY ELLEN MCGONAGLE
Ms. McGonagle has 25 years experience as an Institutional Portfolio Manager, Institutional Salesperson, and as an Investment Consultant. She is co-author of Market Trends Financial LLC. newsletter which has outperformed the stock market since inception. For 15 years, Mary Ellen was Vice President of William O'Neil & Co. where she worked with top portfolio managers worldwide providing valuable insights on individual stocks as well as the markets. Early in her career, she was a Portfolio Manager for Equitable Capital Management in New York where for 8 years she oversaw Fixed Income assets totaling over $2 Billion
Contact us at 310 598-6677
disclaimer:
These offers are advertisements and do not necessarily reflect the opinions of www.wolfmanoptions.com. By selecting an offer you agree to accept email offers from the advertiser and partners.
www.wolfmanoptions.com User Agreement and Privacy Policy
By Clicking On the "I agree Button", Accessing our educational products, using any of our services, downloading any of our software or other products and by going to our site you agree to be bound by the terms of this agreement. If you do not agree with the terms of this agreement you must exit our site or any of our services immediately and abort downloading our software.
Last revised:July 12, 2017
www.wolfmanoptions.com and Global Chart Analysis Privacy Policy shares your concern about the protection of your personal information online. This is our policy regarding the privacy of information we collect on our web sites. We have recently revised our policy. Please take some time to review the new version below. This Privacy Policy includes examples of the types of personal information we collect and the kinds of companies with whom we share such information. These examples are illustrative and should not be considered a complete inventory of our information collection, use and sharing practices. We will comply with applicable state laws that may restrict the types of information we may disclose about you or require us to provide you with additional notices.
Information Gathered and Tracked by Wolfman Options and Global Chart Analysis
WolfMan Options and its parent company Global Chart Analysis gathers two types of data about users: (a) personal information, which individual users provide (i) when registering as a member of www.wolfmanoptions.com our free flagship site, and (ii) voluntarily at certain other points, such as giveaways, contests or surveys; and (b) tracking information, which is automatically collected about all visitors to our sites. By visiting any of Global Chart Analysis websites, using any of our products and apps you are giving consent for us to collect any information about you and any information gathered by Global Chart Analysis and its companies may be made available to its subsidiaries as well as partners.
Personal Information
Wolfman Options and Global Chart Analysis collects personal information in several places on our web sites, which are set forth generally below. We will always provide a secure area of our sites for you to enter your information, but if you prefer, you may talk offline to a customer service representative and provide the required information over the telephone or via email.
Membership
You are considered a Member of www.wolfmanoptions.com and Global Chart Analysis by simply accessing the free commentary, analysis and news available on our flagship site, www.wolfmanoptions.com.
Chats, Reader's Forum and Moderator
We provide chat events for discussion of various topics and we allow readers to submit questions to authors and moderators. No additional personal information is required to submit questions, but participants are asked in the interests of accountability, honesty and informed dialogue to include their full names, as well as any positions they have in stocks mentioned in the question submitted. Please note that information you submit will be available for any user to read, and is no longer private.
Surveys/Polls
At certain times, you may be asked to participate in surveys, which are generally aimed at obtaining general information, for example, your investment experience or your reactions to a particular article. Because information obtained in these surveys is connected with individual subscribers and is used internally to better market our services, participation is voluntary. In addition, some columnists will on occasion take polls of their readers. Such polls are solely for the editorial use of the individual columnists, and participation is voluntary.
Contests and Sweepstakes
We sometimes offer contests or sweepstakes in which certain personal information is required for registration, for purposes of verifying the entrants' identities and notifying the winners. If the contest or sweepstakes is being administered by a third party, this information will be disclosed to that third party. However, entrants may select contest names distinct from their User Names, and the information is not connected with their User Names. Tracking Information Giveaways
We sometimes will offer free giveaways to readers and member in exchange for providing personal information. Participating is completely voluntary.
Tracking data consists of both individual and aggregated tracking information and is automatically gathered using "cookies".
What is a "cookie"?
A cookie is a small data file containing information, such as a user's login name, that is written to the user's hard drive by a web server and used to track the pages visited. Cookies used by Wolfman Options and Global Chart Analysis are encoded and contain a unique digital signature to prevent tampering. They do not contain user passwords. The individual information gathered in this manner is used for internal purposes only, such as accessing a member's account information. We also use the information on an aggregate basis, to track the readership of stories and usage of our products, to analyze traffic patterns on our sites, and to provide anonymous reporting of usage for internal and external clients.
You can control your browser's settings regarding cookies by selecting "Internet Options" or "Preferences" in the menu bar of your browser. This will allow you to prevent your browser from accepting new cookies, have your browser notify you when you receive a new cookie, or disable cookies altogether. However, because cookies allow you to easily navigate our web sites without having to constantly log in using your User Name and password, we recommend that you leave them turned on.
Tracking by our Advertisers
Wolfman Options and Global Chart Analysis advertisers include financial services companies (such as brokerage firms, banks, and mortgage companies) and non-financial services companies (such as computer manufacturers, software companies, automobile makers and retail stores).
Wolfman Options and Global Chart Analysis advertisers and advertising vendors display targeted advertisements. Although
Wolfman Options and Global Chart Analysis does not provide any personal information to the advertiser or advertising vendor, by interacting with or clicking on an ad you consent to the possibility that the advertiser will assume you meet the targeting criteria used.
In addition to cookies placed by Wolfman Options and Global Chart Analysis, described above, advertisers and advertising vendors that serve ads onto our web sites may use their own cookies or other tracking technologies. We cannot be responsible for the privacy policies or practices of any such advertisers and vendors.
Use of the Information
Wolfman Options and Global Chart Analysis uses personal information obtained from its users as stated in this Privacy Policy, and to enhance users' experiences on our sites.
Disclosures Permitted by Law
We provide personal information on a confidential basis to nonaffiliated companies we engage as contractors or agents to perform services for us, such as maintaining software, sending direct mail or administering a sweepstakes or contest. Information will be shared with such contractors only to the extent reasonably necessary for them to perform services on our behalf, and pursuant to confidentiality obligations;
In response to subpoenas, court orders, or legal process, from law enforcement agencies or state and federal regulators;
If we sell or otherwise transfer substantially all of our assets related to any web site that we own or operate and any product or service that we offer. In that event, we will require such third party to honor our current Privacy Policy, until the third party provides you with notice of changes to our Privacy Policy and permits you to exercise any rights you may have under applicable law to limit disclosures of information about you.
Disclosures for Joint Marketing and Servicing
Wolfman Options and Global Chart Analysis may disclose all the information we collect as described above to other companies, such as direct marketers to perform marketing services on our behalf, or organizations with whom we have joint marketing agreements.
Other Uses
Free Newsletters
We use your email address to send you free email newsletters containing selected stories, market information, advertisements and links to our sites. You can select which free newsletters you would like to receive or remove yourself from our free newsletter delivery list at any time by visiting the Communication Preferences page or contacting our customer service by email at info AT wolfmanoptions.com
Special Offers and Advertisements
We may from time to time send you special offers and advertisements for products or services offered by third parties. We will not disclose any of your personal information to such third parties when we do this. If you do not wish to receive third party offers and advertisements, please contact Customer Service at info AT wolfmanoptions.com
Security
www.wolfmanoptions.com and Global Chart Analysis limits access to personal information about you to those employees whom we determine need access to that information to provide products or services to you. We maintain physical, electronic and procedural safeguards that comply with federal standards to guard your personal information. However, no security system is impenetrable. We cannot guarantee the security of our servers, nor can we guarantee that information that users supply will not be intercepted while being transmitted to us over the Internet.
Former Customers
Wolfman Options and Global Chart Analysis discloses personal information about former customers only in accordance with this Privacy Policy.
Your Independent Relationships with Other Companies
Please note that this Privacy Policy will not apply to your independent relationships with other companies that from time to time may offer you products and services on WolfmanOptions.com and Global Chart Analysis sites. Those companies' privacy policies will govern how they collect, use and disclose personal information that you provide to them.